A network of partners in Europe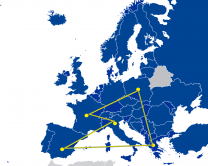 ETRES is also a network of partners engaged at various levels in vocational training or on-the-job support for ecological transition projects.
Carriers of the values of the manifesto
Educating for the environment and sustainable development
these schools, training centres, universities, local authorities, associations, companies or groups of professionals participate in various ways in the development of a training system that can be mobilized within the
World education environmental congress







.
France

The Florac Institute of Agro-Environmental Education leads the mission to support technical education and leads the national ESD network in agricultural education.
---

The School and Nature Network is a space for meetings and exchanges to share experiences and rethink your relationship with the world.

.
Spain

.
Italie

.
Greece

.
Belgium

.
Poland

.
Join us

You wish to participate in our dynamic of development of a network of actors involved in Europe in the accompaniment of the ecological transition; you can do it in us
sending a mail
with your contact details and a brief description of your structure

.
Contact a professional in your area

You can, through the network of ETRES coaches and trainers, contact a professional near you.
These people have mastered and are able to implement the ETRES training system.
---
---