Postures and practices of the support function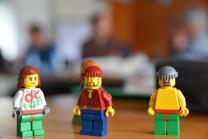 This module provides a theoretical and practical understanding of the support function.
It is a question of understanding what accompaniment means from a professional, ethical and pragmatic point of view.
We propose to go further with examples of tools and methods used to solve complicated situations, but also to take a step back on one's support practice through the analysis of professional practices.
The resources in this module are available in Spanish, Italian, French and Greek
---
Use this module
As in most modules, the resources offered can be used for self-study.
However, for this module more specifically, it is preferable to carry out the phases of professional practice analysis (PPA) in a peer group and in a formal training framework, all led by a person with a good knowledge of PPA.
---
Expert's words
The project leader often has a vision and interests to defend in a project. For
Philippe Barret
, we will not defend his vision, we will take it into account in the same way as those of the other actors.
The word dynamic citizens is a bit abusive for us because often initiatives are public. Citizens are involved, but it is rarely them that we support.
---
On the field

/To accompany is not to do instead or for people. It's a posture. Instead of coordinating, one can choose the posture of an accompanist.

At this point, it is to allow a group to find its own solution, its own project. To this end, the coach provides support and tools so that people can become creators and authors of their daily lives/solutions/projects. It is also about highlighting the skills, potential and learning and development capacities of each individual.

With the citizen dynamic for the ecological transition, we are really in the idea that changes in our behaviours and attitudes concern every citizen and that everyone must be able to appropriate them.
Sandrine Cendrier, REEL48
---
Accompaniment: definition and postures


Accompanying is an action that requires processes, steps and even stages. It is a question of understanding what lies behind this notion in terms of postures and professional acts as well as the limits and stakes at the relational and contextual level.
The referential of professional activities of the accompanist

This reference framework highlights the various approaches and qualifications of the support function in the partners' territories and describes the significant activities and skills implemented in this support function (pdf file).
Analysis of professional practices


The analysis of professional practices is a method of distanceing professional practices in order to understand, clarify and improve practices and thus make one's experience formative. This method is peer-to-peer and requires the facilitation of the APP by a professional.
---
In practice
The guide in action: examples in vivo


This page contains a number of videos related to the various stages of the accompaniment.
---
---