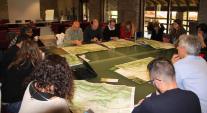 The sustainable development and environmental education stakeholders' expertise is increasingly asked by various local state organisations to support the ecological transition through citizens's initiatives.
Such a new growing task and responsability seems to go beyond the activities they are used to doing like raising people awareness of protecting biodiversity, changing behaviours in reducing energy consumption, using common transports or sorting wastes.
In order to fulfill these new tasks the environmental educators should adopt a supportive stance to create, ease and add value to the ecological transition initiatives from local stakeholders like inhabitants, volunteers, students, families, retired people or elected representatives, local authorities officers and so on.
The ETRES project is supported by EU and brings together many training centres and SDEE professionals coming from 4 countries within a network.
The aims of the project are not only to add value to the ideas, practices exchanges and tools to be collectively thought on a local area.
But also to have a project, to lead it in a democratic way so as to involve stakeholders through concrete and effective initiatives. To do so all partners will create online training sessions and educational resources that will be used locally according to the type of trainings - either initial or in-service ones - they judiciously contemplate to setting up.

---