The network of ETRES trainers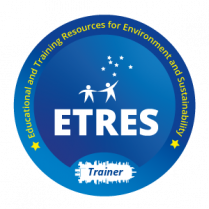 The ETRES programme, coordinated by Montpellier Supagro Institut de Florac, was developed by seven partners from four European countries.
This programme has developed five training modules for training and facilitation professionals on the specific function of supporting ecological transition projects.
sustainable development and ecological transition
participatory approach and active democracy
design and management of a support system
the educational dimension of support
postures and practices of accompaniment
Read more
The objectives of the ETRES network are to recognize and promote the expertise of its members and to promote exchanges between them.

The trainers of the network are people who, through their experience and mastery of the training system, support groups - through training of trainers and/or action training in the acquisition of skills provided through the five training modules.

The trainer badge within the ETRES network is awarded when the person is able to demonstrate that he or she has mastered all five modules of the device.

As the network has a European dimension, the badges are issued in English.

---






---
France
---
Spain
---
Italy
---
.
Greece
---
Belgium
---
Poland
---
Join the network of trainers
You wish to participate in our dynamic of developing a network of trainers committed in Europe to support the ecological transition; you can do so by sending us
an email
with your contact details, a brief description of your activity and examples of actions that you have implemented.
---
---