Ceci est une version archivée de
Module1En
à 2019-10-01 15:53:30.
Sustainable development and ecological transition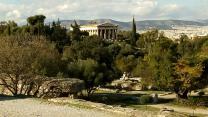 The notion of
sustainable development
- a modern-day concept - is often accompanied by a constellation of terms: cleaner production, circular economy, green growth, mitigation and adaptation to address the major challenge of climate change...
These are strategies of
ecological transition
, based on an
ethics of responsibility
, in order to achieve a 'viable future', ensuring the sustainability of global balances in relation to the well-being of human societies.

The ecological transition process refers to changes in practices and lifestyles, economic development and planning, based on learning experimentation by the various actors who initiate and initiate them.
Rob Hopkins, 2014, "They change the world!",(Seuil)
About this module
This module aims to provide elements for a clarification of the concepts of ecological transition and sustainable development:
basic knowledge of the Sustainable Development Goals established by the United Nations;
reports on exemplary experiences of ecological transition projects for ecological and sustainable development in partner countries (while highlighting the levers and obstacles of such projects);
basic elements to situate oneself in the social debate, often conflictual, around sustainable development (socio-political, historical and ideological issues);
the links of these notions with the question of our individual and collective responsibility, both at the conceptual level (the foundations of an ethics of responsibility) and at the operational level (through the example of corporate social responsibility).
The resources in this module are available in French, Greek, Spanish and Italian
---
Use this module
Concept sheets and experience sheets provide an overview of the challenges in terms of sustainable development and ecological transition in a global way.
These are essential resources for any support approach, which can be used during training sessions for EESD actors, in a context of self-learning, but also during support projects as a support for discussions, to collectively define what an ecological transition project is.
---
Expert's Words
An ecological transition project is first and foremost about taking charge of an idea or need brought or identified by a person, group, community or group of inhabitants. A question related to ecology, the environment, nature
---
Concepts
The concepts of ecological transition and sustainable development


This page presents the concepts of sustainable development and ecological transition and their contexts of emergence...
Agenda 2030 and sustainable development objectives


This page explains the meaning of Agenda 2030 and the 17 Sustainable Development Goals (SDOs) established by the United Nations Member States.
A critical approach to sustainable development


Many educational stakeholders have reservations about the media use of the term 'Sustainable Development', its ideological assumptions, and the resulting economic and socio-political issues.
The question of the ethics of responsibility


The question of the ethics of responsibility lies at the heart of Environmental Education and Sustainable Development (EESD).
Responsibility in an educational context


How to address the issue of responsibility in an educational context through concepts such as'ecological footprint', 'fair trade' and 'ecological debt'.
Corporate social responsibility


The notion of responsibility is not only addressed to the fields of personal or political ethics, but it is now associated with the economic field, in particular the business world.
---
In the field
In the village of Anavra, an exemplary case of ecological and sustainable development


The experience implemented by this remote and mountainous village, at an altitude of 925 metres, has been the subject of great interest to the international media.
Development of an ecological transition project on methanisation in France


In a small town in Poitou-Charentes (France), a group of farmers wanted to build a renewable energy production unit using the methanisation process. This project has become an appropriate project for the local population.
La porta del parco: an example of an ecological and solidarity transition project
The objective of the 'La porte del Parco' project is to develop a municipal agricultural zone.
Its main purpose is to bring together associations, subjects, groups and families around this area in order to work on environmental sustainability, the creation of social networks and the development of local resources.
All this can be developed through the vineyard and orchard, festivals, cultural events and courtyards, shared gardens, picnic and playground area and the agricultural market.
---
---